As title says, it's a review of my purchase from
Toxique Emporium
. I happened to come across a pair of gorgeous looking plastic ram horns on Etsy. The price looked really good. 20$ for the horns and 10 $ for the shipping. So I added it to my list of favorites to consult with my mate before ordering. Few days latter I saw that the price has dropped to 17$ and I ordered a pair. Now as I think I got them really cheap:D Since after a few weeks the price jumped from 27$with shipping to 49$ with shipping. But the girl was getting a lot of orders so it's only normal since all similar items on Etsy cost even more. There was few negative feedback sin which people were complaining about the time it took to get their order and that the seller didn't respond to messages. Well, as a seller myself I know that sometimes personal issues gets to you because we all are humans and being a seller on Etsy doesn't make it different. So I ordered it since I had plenty of time and was not afraid to wait especially since they looked so good and were so cheap ( at that moment) I ordered the plain horns in black with no straps.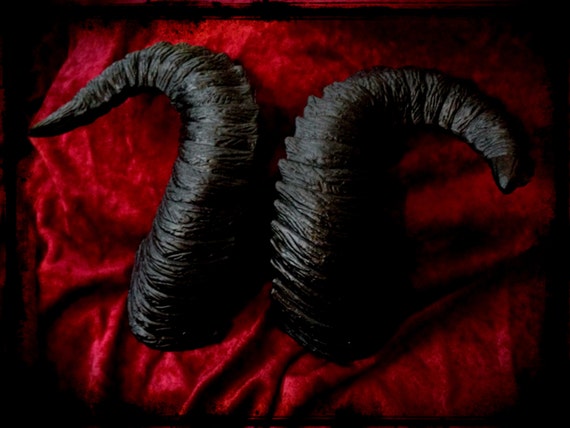 Stock picture
I ordered on May 2 and it arrived an June 26. That took a while. After almost two weeks from ordering I politely asked when approximately I should expect them to be done and got respond after 10 days that the horns were supposed to be shipped today but supplies needed to finish my horns have not arrived jet. I responded that I'm not in a hurry and I understand the problem. After a week there was another message in which the seller apologized for the delay since they had medical issues and told me that the horns will be shipped next Friday. But Friday came ant the were no notifications of shipping so I asked about it again and mentioned that I would love to get them before my birthday that is few weeks away. And the same day they were marked as shipped :)
From her Face Book page I know now that she does everything by herself as well as I do. That's hard. I sometimes have no mood to leave a house even if there is a parcel to be taken to post office. That annoys but since I know the other side of this I kinda understand... And the product is good :D
They came in a simple soft post bag with no additional wrapping and I was afraid they will be scratched or broken.
But no, they were fine. So they really are durable :) And they are light. So light you can forget you are wearing them.
The pattern is really lovely and realistic.
They lack the finishing touch but it's not that visible so I'm OK with that. And after I'll paint them to be more realistic that won't be visible at all.
And here comes the horns in action!!!
The horns are... fantastically comfortable to wear and hold so good on the head It's hard to believe :D I do love them. I would wear them daily but I'm afraid I seriously scare some old grannies by looking like that. You don't expect to meet demons while doing your grocery :D
I've seen that now there is mentioned that it takes 4 to 6 weeks to make the order, so you must be patient. But even with the higher price this is still the cheapest devil horns on Etsy that look really good and have the perfect size and shape. I really recommend to join Toxique Emporium on Face Book, since she post there time to time, and it's easier to post one message on the wall that all followers will see then write personally to everyone on Etsy.
So, If you need a pair of diabolic horns, I recommend it. But be ready to wait for two months before they are shipped.