It's a tradition for me to return home for Christmas despite how much I hate spending three hours in a train with all packages (present) of mine. And I'm working on 24th, so that means I'll have to take a train early in the morning of 25th.
Yesterday I was backing cookies all day long. I'll have no time latter so I decided to do it on my day off. Now I must to resist and not devour them :D They are so tasty. Need to remember the recipe.
I'll leave the packing for the last day. I've found very pretty wrapping paper with golden and white ornament on a black background :D How ever, most of my present won't have a certain form so, I'll just use a organza bags and keep the beautiful wrapping paper for future gifts :)
I usually do not Gothicize the gifts. I always want, but some how I end not doing it. I'll add some bats this year...maybe.
How ever, here's some inspiring wrapping: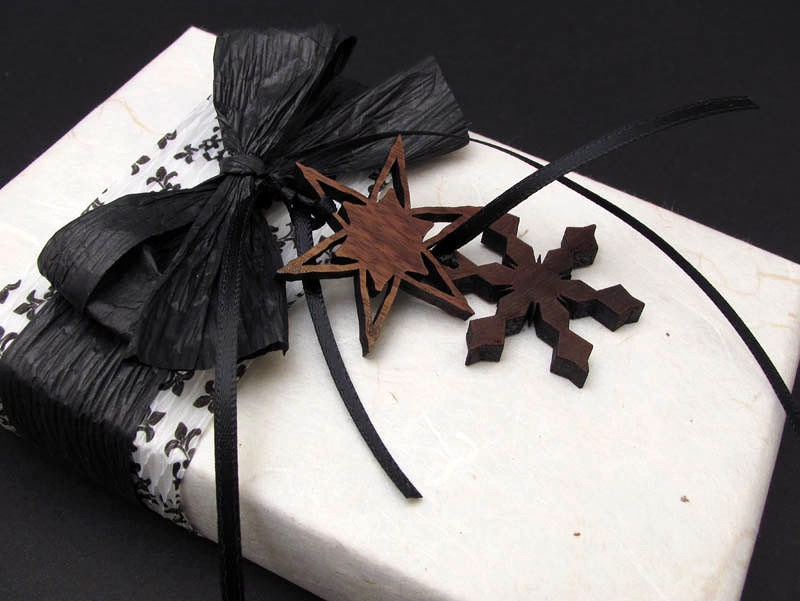 So elegant. The wood element brings out the warm. You can actually buy it
here
.
I find lace on gift packages to be adorable accent.
Source
Why not decorate your present with stamps?
Learn how to make them:
Other cute wrappings
Simple but cute. Black paper/ white snowflake? Why not ;)
News paper can be handy too :)
I love simplicity :) It's stand out from ordinary wrapping and is so personal.
And what about making your own present bag?? Tutorial
here
.
So, you are welcome to use the ideas if you haven't prepared your gifts jet ;)